Australia PR Visa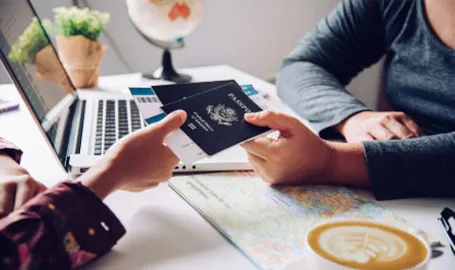 Australia PR Visa
Australia is a top destination for individuals and families seeking a better life, with its thriving economy, high living standards, excellent healthcare and education systems, and welcoming multicultural society. Obtaining Australia Permanent Residency (PR) is a dream for many, and at Federal Outsourcing Immigration Company, we are committed to making that dream a reality. As a leading immigration company based in India, we provide a comprehensive range of services to help you navigate the complex process of securing your Australia PR Visa, from personalized PTE/IELTS coaching to post-landing support. With our in-depth knowledge of the latest immigration policies and updates, we ensure that your application has the best chance of success.
Personalized PTE/IELTS Coaching:
A high PTE or IELTS score is a crucial factor in your Australian PR application, as language proficiency plays a significant role in the points-based system used to evaluate candidates for various immigration programs, such as the General Skilled Migration (GSM) Program. Our expert team understands the importance of achieving a competitive PTE or IELTS score and offers personalized coaching tailored to your individual needs.
Our qualified PTE/IELTS trainers are committed to supporting you throughout your preparation journey, providing you with comprehensive study materials, practice tests, and feedback to help you excel in these critical language proficiency tests. With our dedicated PTE/IELTS coaching, you can confidently achieve the required score for your desired immigration program, whether it's the Skilled Independent visa (subclass 189) or the Skilled Nominated visa (subclass 190).
Expert Immigration Consultation:
Navigating the complex world of Australian immigration can be overwhelming, especially for first-time applicants. Our experienced immigration consultants are here to guide you through the entire process, from selecting the right immigration program to submitting a comprehensive and accurate application.
With our in-depth knowledge of Australian immigration policies, we help you understand your options and choose the best pathway to Australia PR Visa, whether it's through the General Skilled Migration Program, Employer-Sponsored visas, or other available programs. We provide personalized advice and assistance to ensure that you meet the eligibility criteria and can maximize your points score, enhancing your chances of receiving an invitation to apply for Australia PR.
Documentation Assistance:
A well-prepared and error-free application is crucial for your Australia PR approval. Our team of documentation specialists will meticulously review your documents and ensure that they meet the stringent requirements set by Australian immigration authorities. From educational credentials to work experience letters and proof of funds, we help you compile a strong application package that accurately represents your skills and qualifications.
We also assist you in obtaining the necessary documents, such as Skills Assessments and language test results, as well as preparing compelling letters of explanation for any gaps or discrepancies in your application. By ensuring that your application is complete and accurate, we significantly reduce the chances of delays or refusals due to missing or incorrect information.
Application Submission and Follow-up:
Once your documents are compiled and reviewed, we assist you in submitting your Expression of Interest (EOI) through Skill Select and your application to the appropriate Australian immigration authorities. Our team stays up-to-date with the latest invitation rounds and program updates, ensuring that you don't miss any crucial deadlines or opportunities to apply for Australia PR.
We also provide regular updates on the status of your application and liaise with the immigration authorities on your behalf to address any inquiries or concerns that may arise during the processing of your application. Our commitment to clear and timely communication ensures that you are always informed about the progress of your Australia PR journey.
Post-Landing Services:
Our support doesn't end once you receive your Australia PR approval. We understand that settling in a new country can be challenging, which is why we offer post-landing services to help you transition seamlessly into Australian life. Our comprehensive post-landing support includes:
• Airport pick-ups: We arrange for a friendly representative to meet you at the airport and assist you in getting settled upon your arrival in Australia.
• Accommodation assistance: Our team helps you find suitable temporary or long-term housing, ensuring that you have a comfortable place to stay as you begin your new life in Australia.
• Orientation and city tour: To help you familiarize yourself with your new surroundings, we provide a comprehensive orientation and city tour, covering essential facilities and services, such as public transportation, healthcare centres, schools, and shopping centres.
• Employment assistance: Our experts offer guidance on job search strategies, resume preparation, and interview techniques, helping you secure a suitable job in your chosen field.
• Tax File Number (TFN) and Medicare registration: We assist you in obtaining your Tax File Number and registering for Medicare, ensuring that you have access to essential services from the moment you arrive in Australia.
• Banking assistance: Our team helps you open an Australian bank account and provides guidance on managing your finances in Australia.
• Networking and community connections: We introduce you to relevant social and professional networks, helping you build connections and integrate into your local community.
Federal Outsourcing- Best Australia PR Visa Consultant
At Federal Outsourcing Immigration Company, we understand that achieving your Australian dream is a life-changing decision. Our team is committed to providing unparalleled support and guidance throughout your journey, from PTE/IELTS preparation to post-landing services. With our comprehensive range of services and personalized approach, you can trust us to guide you through every step of your Australia PR journey, ensuring a smooth and hassle-free transition to your new life Down Under. Get in touch with us today to start your Australia PR Visa journey and take the first step towards a brighter future.