Table of Contents
Prince Edward Island, a key member of Canada's Atlantic provinces, recently announced the latest selection of its Prince Edward Island Provincial Nominee Program (PEI PNP), exclusively executed on November 2, 2023. This draw focuses on candidates listed within the Labor and Express Entry streams. ,
During this recent session of immigration invitations, Prince Edward Island allocated a total of 41 Invitations to Apply (ITAs) for a provincial nomination. These ITAs targeted candidates from the Labour and Express Entry pool. Those who received invitations in this particular draw are professionals employed in key sectors such as Healthcare, Manufacturing, Food Processing, and Agriculture.
Highlights Of PEI PNP Draw - November 2, 2023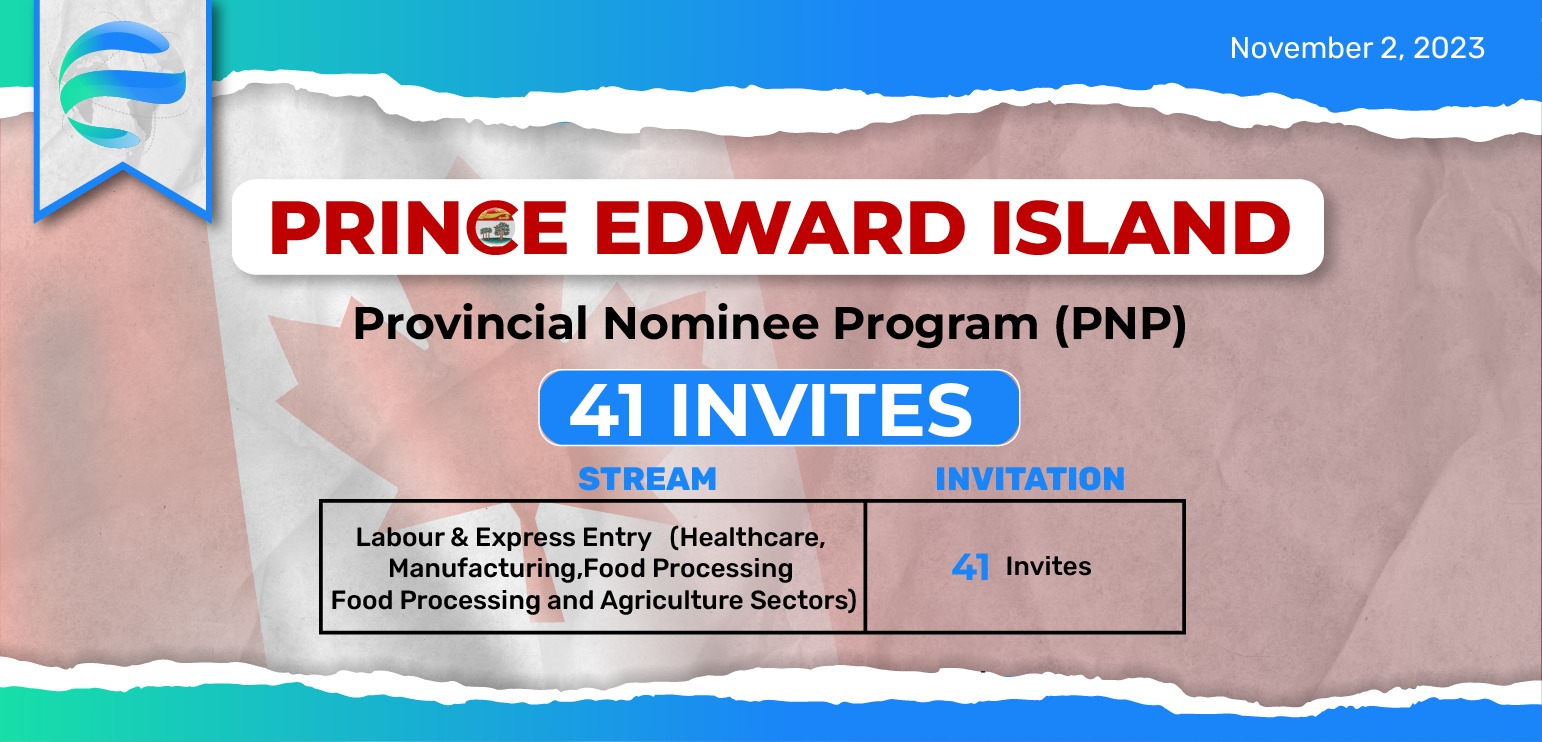 • Type Of Draw: Labour and Express Entry
• Invitation Issued: 41
• Date Of Round: November 2, 2023
• Invites were extended to professionals employed within the Healthcare, Manufacturing, Food Processing, and Agriculture industries.
Reviewing the data of the last 12 months, PEI PNP has extended a cumulative of 2386 invitations.
The distribution is as follows:
• 2325 individuals from the Labour & Express Entry stream
• 61 professionals aligned with Business Work Permit Entrepreneur stream
In the data analysis, 3% of the total invitations sent in the last 12 months were business invitations, while labor invitations led the way at 97%.
Last 10 PEI PNP Draw Results
Date OF Invitation
Business Work Permit
Entrepreneur Invitations
Minimum Point Threshold
for Business Invitations
Labour & Express Entry Invitations
Invitation Totals
Nov 2, 2023
-
-
41
41
Oct 19, 2023
2
80
102
104
Oct 5, 2023
-
-
20
20
Sep 21, 2023
4
80
153
157
Aug 31, 2023
-
-
22
22
Aug 17, 2023
4
102
138
142
Aug 3, 2023
-
-
58
58
Jul 20, 2023
9
80
97
106
Jun 29, 2023
-
-
90
90
Jun 15, 2023
4
82
118
122
PEI PNP Application Process Overview
The Prince Edward Island Provincial Nominee Program (PEI PNP) is designed for individuals who have the skills and experience required by the province and who wish to immigrate to Prince Edward Island, Canada. The PEI PNP allows the province to nominate candidates to the federal government for permanent residence.
🌟 Determine Eligibility
Before applying, you need to determine if you are eligible for one of the PEI PNP streams. The main categories are:
• PEI Express Entry: For candidates who are in the federal Express Entry pool.
• Labour Impact Category: For individuals with a job offer in PEI and support from a PEI employer.
• Business Impact Category: For entrepreneurs who intend to invest in and actively manage a business in PEI.
🌟 Review Application Guide and Forms
Each category and stream has specific guides and application forms. It is important to carefully review the most current guides and use the latest forms provided on the official PEI PNP website.
🌟 Prepare Documents
You will need to gather various documents to support your application, such as:
• Identity and civil status documents.
• Language test results (if applicable).
• Educational credentials and assessments.
• Work experience documentation.
• Job offer from a PEI employer (if applicable).
• Business plan (for Business Impact Category).
🌟 Submit an Expression of Interest (EOI)
For some streams, you must submit an expression of interest to the PEI PNP. An EOI is not an application but rather indicates your interest in being considered for provincial nomination. You will be given a score based on factors such as age, language, education, work experience and employment.
🌟 Invitation to Apply
If you are selected from the EOI pool, you will receive an Invitation to Apply (ITA) for a provincial nomination. Once invited, you can proceed to the next step.
🌟 Complete and Submit Application
After receiving the ITA, complete the application package for your specific category and stream. Make sure all forms are filled out correctly and all required documents are included.
🌟 Pay Application Fee
Most categories require payment of a non-refundable application fee. Make sure to check the current fee amount and pay according to the instructions provided.
🌟 Application Assessment
The PEI PNP Program will evaluate your application based on the criteria. This process may include additional requests for information or interviews.
🌟 Receive Provincial Nomination
If your application is successful, you will receive a provincial nomination from PEI. With this nomination, you can then apply to Immigration, Refugees, and Citizenship Canada (IRCC) for permanent residency.
🌟 Apply for Permanent Residency
Apply for permanent residency with IRCC, including your nomination certificate from PEI. You will need to pass a medical exam and criminal admissibility checks.
🌟 IRCC Decision
The IRCC will make the final decision on your application for permanent residence. If approved, you will receive a Confirmation of Permanent Residence (COPR) and can make arrangements to move to Prince Edward Island.